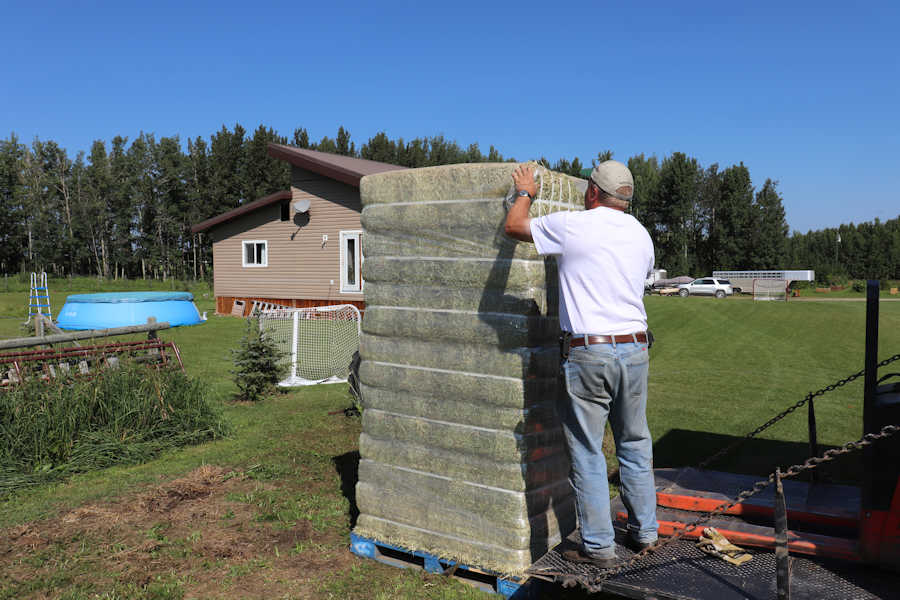 About Highbred Horse Hay
Highbred Horse Hay has been developed over 20 years of forage export experience. We rely on Canada's cool dry climate to create the most palatable grass forages in the world. With our naturally rich soil and long summer days our feed quality is unsurpassed.
We process and blend the forages to create superior feed. Our process heat-treats, removes contamination, removes excess dust, balances moisture, and removes small particles to retain the long fiber. The packaging system produces consistent weight bales that are easy to handle and feed. The whole system is designed to deliver the best, safest, most efficient equine feed available.
Ask About Our Custom Blends
Our process can custom mix any forage or straw available in Canada. Products can be mixed for all types of animals. Our primary markets are for Horses, and Beef and Dairy Cows.
Common species found in hay include Timothy, Brome Grass, Orchard Grass and Alfalfa, and some less common species such as Wheat Grass, Rye Grass, Oats and Clover.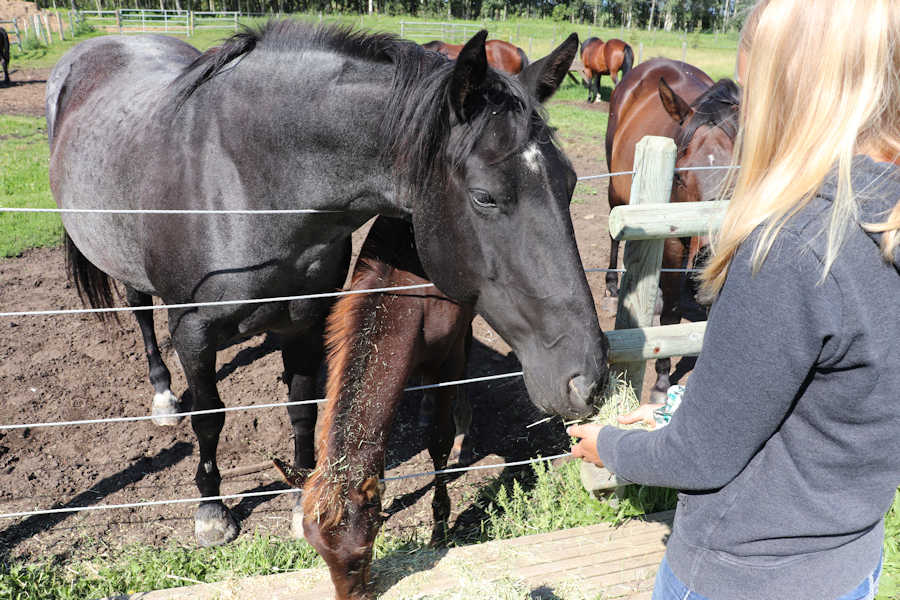 Directions of Use
Please pay attention to any warnings of use attached to the package.
1. When feeding from the pallet of delivered hay, please be cautious of a tipping hazard. Place pallet on level ground to avoid pallet falling over.
2. Always start by feeding from the top of the pallet. Cutting into the lower layers will cause stack instability.
3. Cut away only the portion of the plastic wrap that is needed to freely remove the bales required. The wrap will continue to protect the unused hay.
4. Top bales on the pallet are 2.3 meters (7.5 feet) high and weigh as much as 20 kg (44 lbs). Make sure you are well balanced and can absorb the weight of the first bales off the stack. If you allow the bale to fall to the ground, be sure nothing below can be hurt or damaged.
5. When cutting the plastic strap, please protect your hands and especially eyes. Safety glasses and gloves are recommended. Stack retaining straps and bale straps are under pressure and will pop violently when cut.
6. If feeding whole bales with straps remaining on, please pick up the loose straps daily to avoid tripping hazard.
7. If you are feeding from the pallet stored outside, it is recommended that you cover the exposed bales from moisture.
Warranty
Transfeeder, an Agricultural Corporation does not give any warranty of any kind, either expressed or implied, and in particular, does not give any warranty, either expressed or implied, with respect to the results to be obtained from the use of the feed or other products sold pursuant to the agreement. Any claim the Purchaser may have with respect to the feed or with respect to any charges for the same must be made promptly and in writing and Transfeeder must be given an opportunity to examine the feed and any animals said to be affected. In any event, the liability of Transfeeder, whether in contract or tort or otherwise, from any loss or damage arising out of, or connected with, or arising from a breach by Transfeeder is limited to the price allocated to the feed covered by the Agreement that gives to the claim. In no event shall Transfeeder be liable for any special, indirect or consequential damage by the Purchaser, such as but not limited to loss of profit, loss or use, or down time.
In simple terms, we will accept a return of unused bales if the hay does not meet your expectations for a full refund. We do not, however, accept any liability from its use.